Oriental Trading Company Product Donations
Read more about how your organization can qualify for and use a donation from Oriental Trading Company, or click here to find and solicit more donors like them!
About Oriental Trading Company And Giving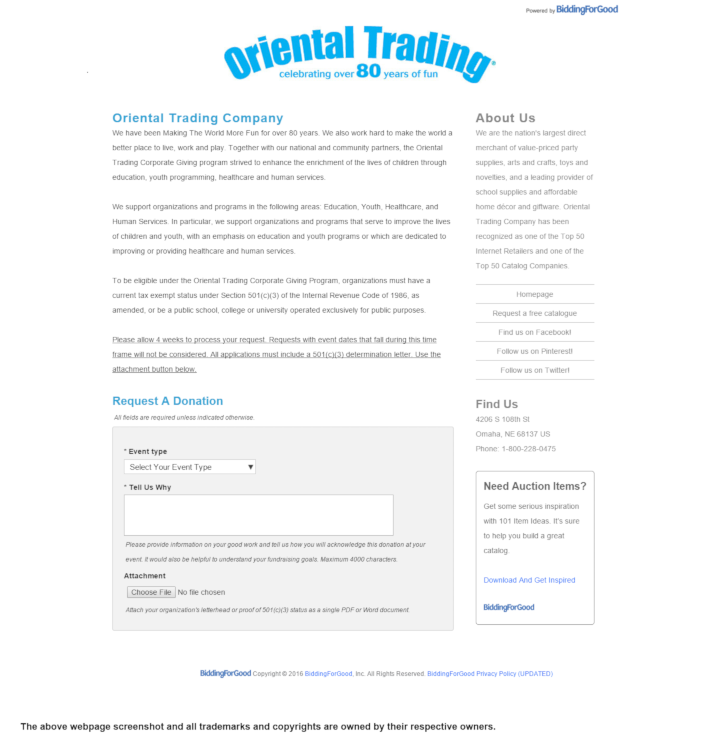 See their website for more detailed information.
Oriental Trading Company has focused its efforts to create fun-filled experiences in order to make the world a more wonderful place. Their passion, however, goes beyond simple entertainment, as they work relentlessly to enhance the environment we live in. They actively support organizations and initiatives based on education, youth development, healthcare, and human services in collaboration with their partners. They provide cash, product donation, or a combination of both.
To be eligible under the Oriental Trading Corporate Giving Program, your organization must hold a valid tax-exempt status under Section 501(c)(3) of the Internal Revenue Code of 1986. Once eligible, you can submit your donation request conveniently through their online form. To ensure ample time for consideration, it is recommended to submit your request at least four weeks prior to the scheduled event date. Embrace the opportunity to partner with Oriental Trading Company and bring joy, support, and enrichment to your community.
Company Information: Oriental Trading Company trademarks and copyrights are owned by:
Oriental Trading Company