Ollie's Bargain Outlet Product Donations
Read more about how your organization can qualify for and use a donation from Ollie's Bargain Outlet, or click here to find and solicit more donors like them!
About Ollie's Bargain Outlet And Giving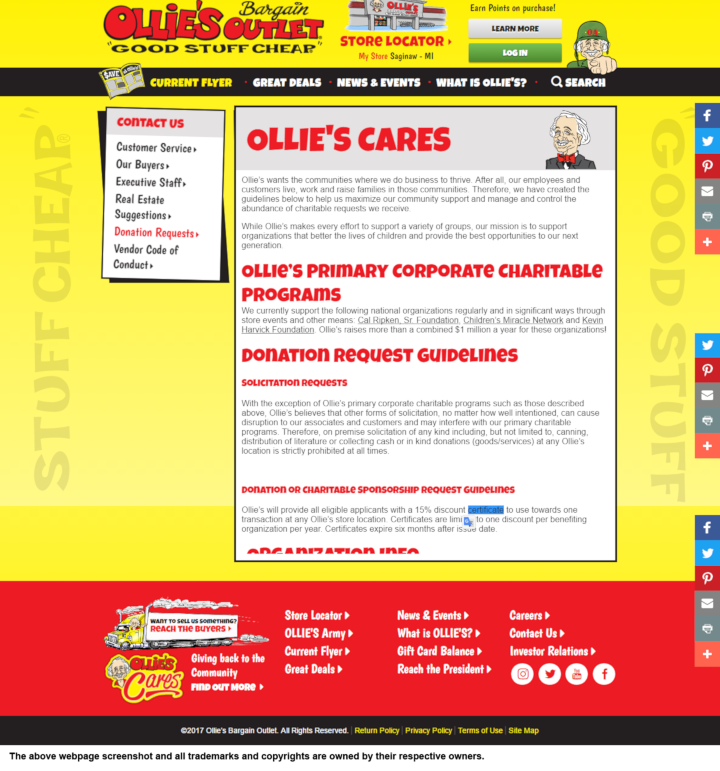 See their website for more detailed information.
Ollie's supports local organizations in communities where their employees and customers live, work and raise families. It is their goal to help organizations that provide opportunities to the next generation through the betterment of children's lives.
They created guidelines to help them maximize their community support and manage and control the abundance of charitable requests they receive. If your organization meets all their guidelines, you can submit your application through their online form. Just check their donation page and then complete the process.
Eligible organizations will receive a discount certificate worth 15% off towards one transaction at any Ollie's location. One certificate may be used per year per organization.
Company Information: Ollie's Bargain trademarks and copyrights are owned by:
Ollie's Bargain