LEGOLAND Florida Product Donations
Read more about how your organization can qualify for and use a donation from LEGOLAND Florida, or click here to find and solicit more donors like them!
About LEGOLAND Florida And Giving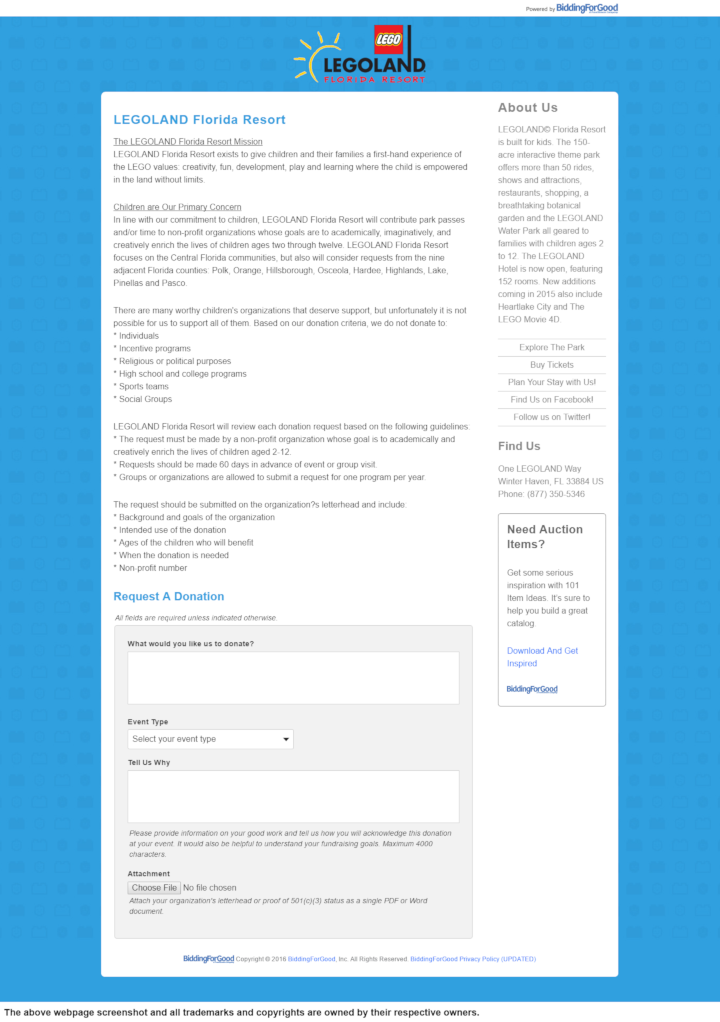 See their website for more detailed information.
LEGOLAND Florida core values are creativity, fun, development, play and learning where the child is empowered in the land without limits. Their mission is to give children and their families a first-hand experience of the LEGO values.
Children are their primary concern. They support community programs whose goals are to academically, imaginatively, and creatively enrich the lives of children. Park passes are perfect for auction, raffle, door prizes, peer to peer, and other fundraising activities.
They focus on the Central Florida communities, but they will also consider requests from the nine adjacent Florida counties: Polk, Orange, Hillsborough, Osceola, Hardee, Highlands, Lake, Pinellas and Pasco.
All requests must be made through online application. It should be submitted on the organization's letterhead and should be made 60 days prior to the event or group visit.
Company Information: LEGOLAND Florida trademarks and copyrights are owned by:
LEGOLAND Florida