Kimberly-Clark Product Donations
Read more about how your organization can qualify for and use a donation from Kimberly-Clark, or click here to find and solicit more donors like them!
About Kimberly-Clark And Giving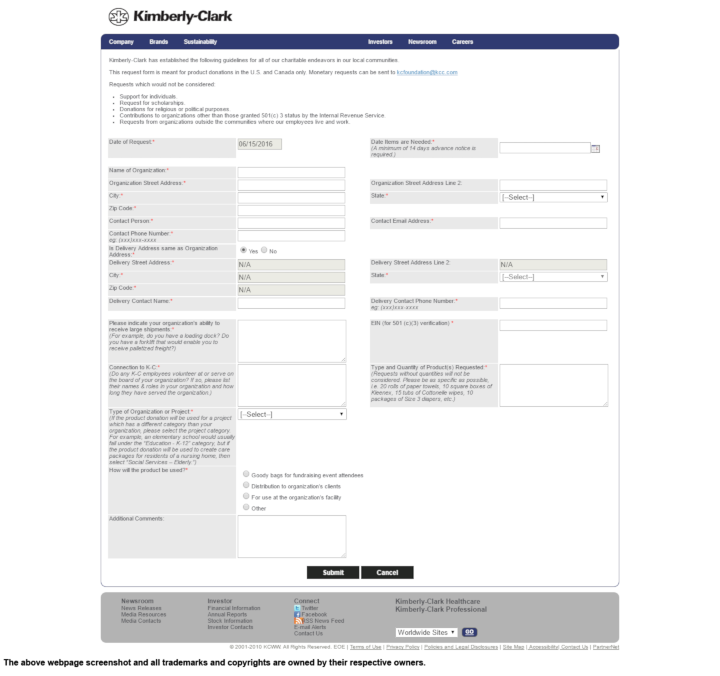 See their website for more detailed information.
501(c)(3) organizations can apply online for financial contributions, Kimberly-Clark product donations and volunteer time.
Kimberly-Clark donates locally to places where their employees work and live. Locations include: Dallas, TX / Knoxville, TN / Neenah, WI / Roswell, GA / Beech Island, SC / Bellevue, WA / Charlotte, NC / Chester, PA / Conway, AR / Corinth, MS / Eden Prairie, MN / Franklin, MA / Frisco, TX / Fullerton, CA / Hoffman Estates, IL / Jenks, OK / LaGrange, GA / Loudon, TN / Marinette, WI / Maumelle, AR / Mobile, AL / Minneapolis, MN / Nashville, TN / New Milford, CT / Ogden, UT / Owensboro, KY / Paris, TX / Pleasanton, CA / Rogers, AR / San Antonio, TX / West Chester, OH
To submit your donation request; just complete their online form. A minimum of 14 days advance notice is required.
Company Information: Kimberly-Clark trademarks and copyrights are owned by:
Kimberly-Clark