Big 5 Sporting Goods Product Donations
Read more about how your organization can qualify for and use a donation from Big 5 Sporting Goods, or click here to find and solicit more donors like them!
About Big 5 Sporting Goods And Giving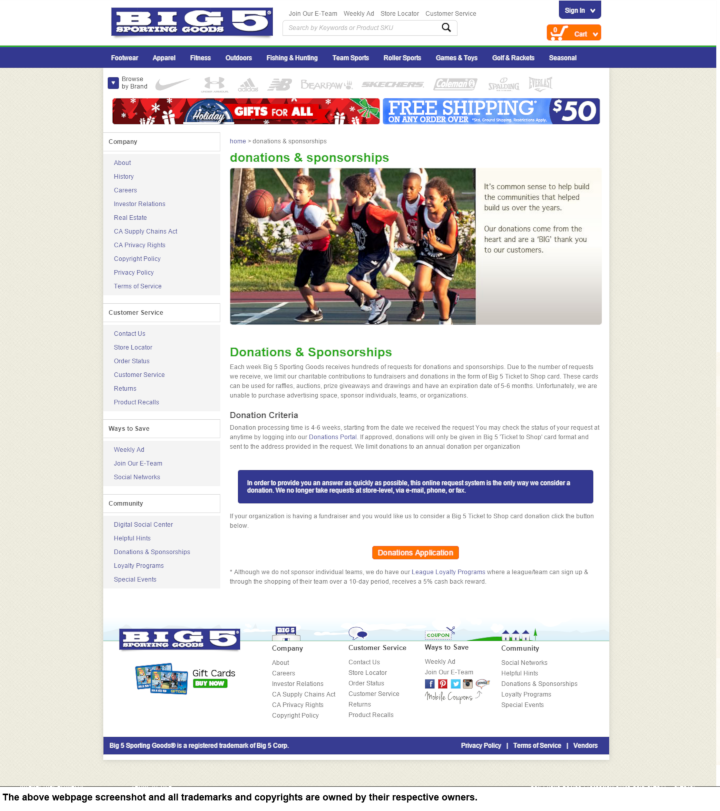 See their website for more detailed information.
As a way of saying thank you to their customers, through donations or sponsorship, Big 5 Sporting Goods gives back to the communities where they serve. Their donations and charitable contributions are in form of Big 5 Ticket to Shop card. This card is perfect for raffles, auctions, prize giveaways and drawings.
You can submit your donation request through the online form. Just visit their Donations & Sponsorships page and then complete the process. Be reminded that they will not entertain requests at store-level, via e-mail, phone, or fax.
Processing time takes 4-6 weeks, starting from the date they received the request. Donations are limited to an annual donation per organization.
Company Information: Big 5 Sporting Goods trademarks and copyrights are owned by:
Big 5