Barnes & Noble - National Product Donations
Read more about how your organization can qualify for and use a donation from Barnes & Noble - National, or click here to find and solicit more donors like them!
About Barnes & Noble - National And Giving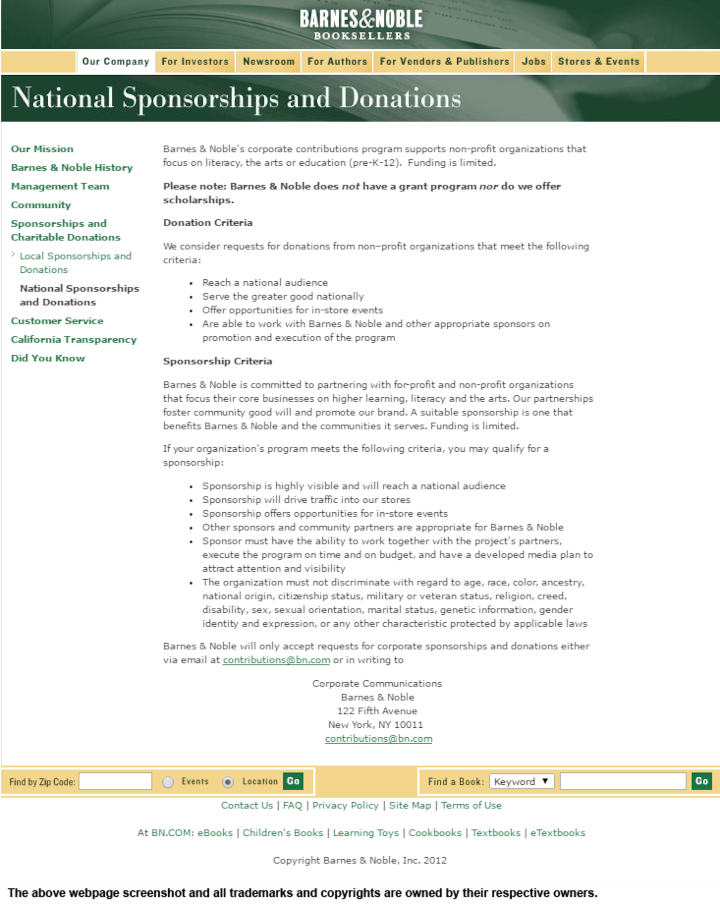 See their website for more detailed information.
The Barnes & Noble support on-profit organizations that focus on literacy, the arts or education (pre-K-12) at the national level(Local giving on another page) . They consider requests for donations from organizations that meet the following criteria:
Reach a national audience
Serve the greater good nationally
Offer opportunities for in-store events
Are able to work with Barnes & Noble and other appropriate sponsors on promotion and execution of the program
Sponsorship Criteria:
Sponsorship is highly visible and will reach a national audience
Sponsorship will drive traffic into our stores
Sponsorship offers opportunities for in-store events
Other sponsors and community partners are appropriate for Barnes & Noble
Sponsor must have the ability to work together with the project's partners, execute the program on time and on budget, and have a developed media plan to attract attention and visibility
Follow non-discrimination policy
For donations and sponsorships, you can submit your request via email or in writing.
Company Information: Barnes & Noble trademarks and copyrights are owned by:
Barnes & Noble