Trader Joe's Product Donations
Read more about how your organization can qualify for and use a donation from Trader Joe's, or click here to find and solicit more donors like them!
About Trader Joe's And Giving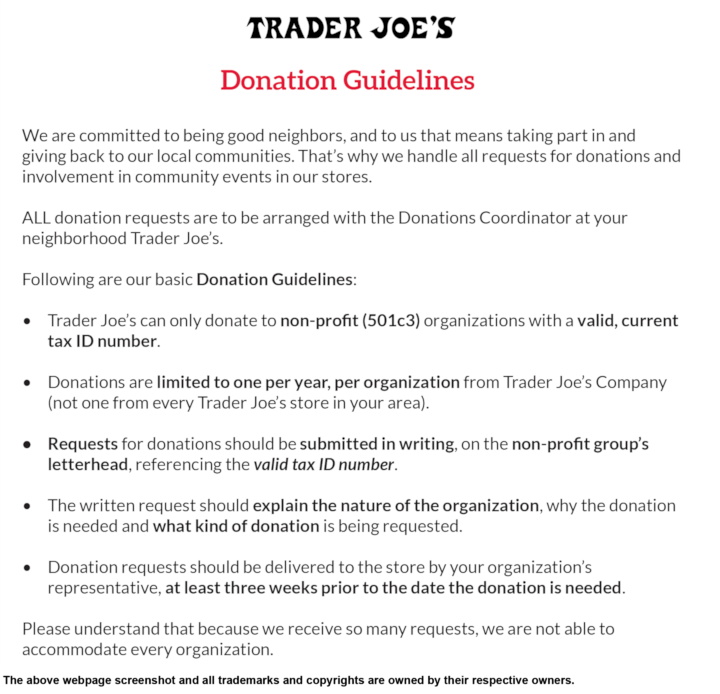 See their website for more detailed information.
If you represent a nonprofit organization seeking a donation from Trader Joe's, follow these guidelines to ensure a successful request:
Eligibility Criteria:
Trader Joe's can only donate to nonprofit organizations (501c3) with a valid and current tax ID number.
Limitations:
Food and beverage donations are limited to one per year, per organization from Trader Joe's Company, not one from every Trader Joe's store in your area.
Written Request:
Submit your donation request in writing on your nonprofit group's official letterhead, including a reference to your valid tax ID number.
Request Details:
Clearly explain your organization's nature and why the donation is needed. Specify the type of donation you are requesting (food and/or beverage).
Timing:
Deliver the donation request to your neighborhood Trader Joe's store, at least three weeks prior to the date you need the donation.
Contact the Donations Coordinator:
All requests for food and beverage donations and involvement in community events in Trader Joe's stores should be arranged with the Donations Coordinator at your local store.
Note on Accommodation:
Keep in mind that due to the high volume of requests, Trader Joe's may not be able to fulfill every organization's request.
By adhering to these guidelines and providing all necessary details, your nonprofit organization can make a proper request for a donation from Trader Joe's. Engaging with the Donations Coordinator at your neighborhood store will help ensure your request is appropriately considered.
Company Information: Trader Joe's trademarks and copyrights are owned by:
Trader Joe's