Staples Product Donations
Read more about how your organization can qualify for and use a donation from Staples, or click here to find and solicit more donors like them!
About Staples And Giving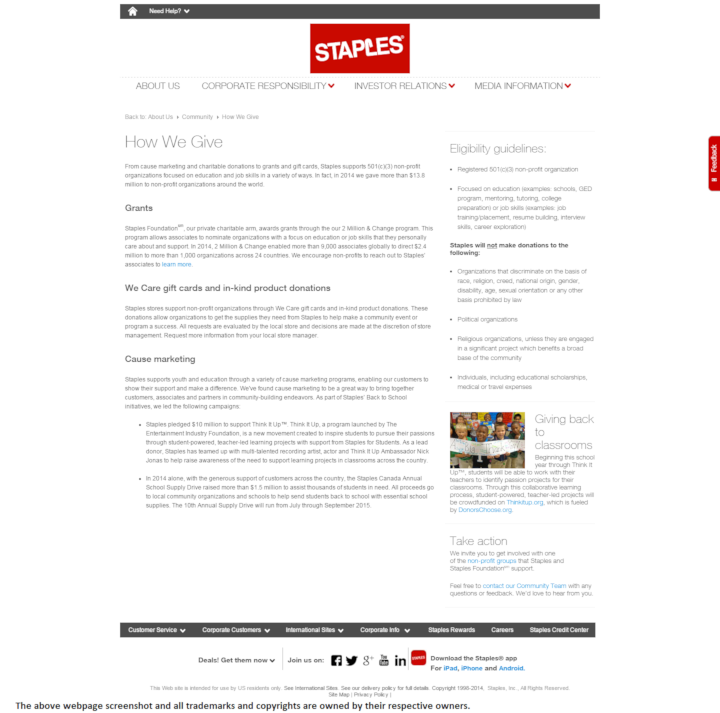 See their website for more detailed information.
To request a donation from Staples, please follow these steps based on the information provided on their webpage:
1. Confirm eligibility: Staples provides support to registered 501(c)(3) non-profit organizations or public schools. Ensure that your organization falls under this category.
2. Determine focus areas: Staples supports organizations focused on education, such as schools, GED programs, mentoring, tutoring, college preparation, as well as those focused on job skills, including job training/placement, resume building, interview skills, and career exploration.
3. In-kind product donations and We Care gift cards: Staples offers in-kind product donations and We Care gift cards to help non-profit organizations obtain the necessary supplies from Staples for successful community events or programs.
4. Contact your local store manager: All donation requests are evaluated by the local store, and decisions are made at the discretion of store management. To request more information or apply for donations, get in touch with your local store manager. They will be able to provide you with further details and guidance.
5. Donation guidelines: Staples has specific criteria for donations. They do not provide donations to organizations that discriminate based on race, religion, creed, national origin, gender, gender identity, disability, age, sexual orientation, or any other basis prohibited by law. Political organizations are not eligible for donations unless religious organizations are engaged in significant projects that benefit a broad base of the community. Individual requests, including educational scholarships, medical expenses, and travel expenses, are not considered.
6. Tailor your request: When reaching out to your local store manager, be sure to tailor your donation request according to the eligibility guidelines and focus areas mentioned above. Highlight how your organization aligns with Staples' support for education or job skills.
7. Seek clarification if needed: If you have any questions or need further clarification, don't hesitate to contact the Staples Community Team. They will be happy to assist you and address any inquiries or feedback you may have.
Remember to review the information provided on the webpage and customize your request accordingly.
Company Information: Staples trademarks and copyrights are owned by:
Staples