Pentel Product Donations
Read more about how your organization can qualify for and use a donation from Pentel, or click here to find and solicit more donors like them!
About Pentel And Giving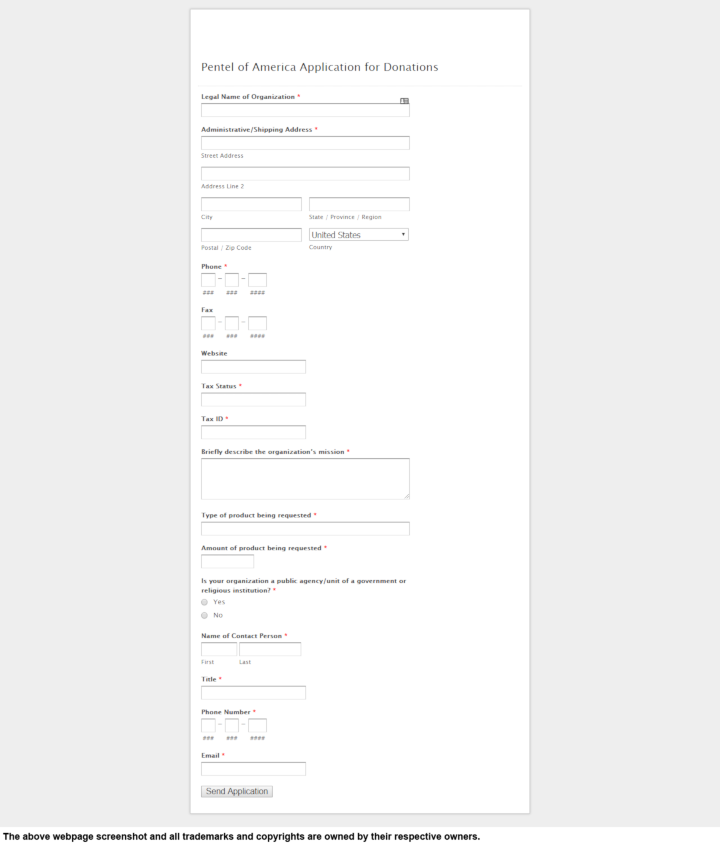 See their website for more detailed information.
To request a donation from Pentel, please follow the guidelines outlined on their corporate donations policy webpage.
1. Strategic Objective for Donations:
Pentel's donation efforts aim to support its corporate objectives, contribute to the well-being of the community, and reflect its corporate values publicly.
2. Contribution Priorities:
a. Education: Pentel is committed to supporting non-profit institutions and events that promote education and provide proper writing instruments for children and adults striving to learn.
b. Health & Human Service Organizations: Charitable causes that benefit human welfare nationwide, such as The Breast Cancer Research Foundation, City of Hope, and the Red Cross Society.
c. Arts: Pentel Arts, a sub-division of Pentel, supports the art industry and believes in the positive impact of imagination and creativity for children and adults.
3. Donation Guidelines:
a. Eligibility: Organizations must have 501(c) status or be an American tax-exempt, nonprofit corporation or association.
b. Acknowledgment: Donations exceeding $75 in value require an acknowledgment document from the qualified organization, printed on their letterhead and stating the amount of product received.
c. Alignment: Organizations must be closely related to one of Pentel's contribution priorities.
d. Direct use of the product: The donated product must be used directly by the organization.
e. Delivery time: Approved donation requests require 6-8 weeks for product delivery.
4. Pentel Will Not Support:
a. Organizations without 501(c) status.
b. Political or religious causes.
c. Individual participation in events or fundraisers (e.g., walk-a-thons, scout projects, fundraising sporting events).
5. Donation Process:
Complete the online application to submit your donation request.
6. Other Information:
a. Pentel reserves the right to deny any donation request.
b. All donations are at the discretion of Pentel.
Please ensure that your donation request adheres to the guidelines and aligns with Pentel's priorities. For more detailed information and to access the online application, refer to the corporate donations policy webpage provided.
Company Information: Pentel trademarks and copyrights are owned by:
Pentel