Chicago Cubs Product Donations
Read more about how your organization can qualify for and use a donation from Chicago Cubs, or click here to find and solicit more donors like them!
About Chicago Cubs And Giving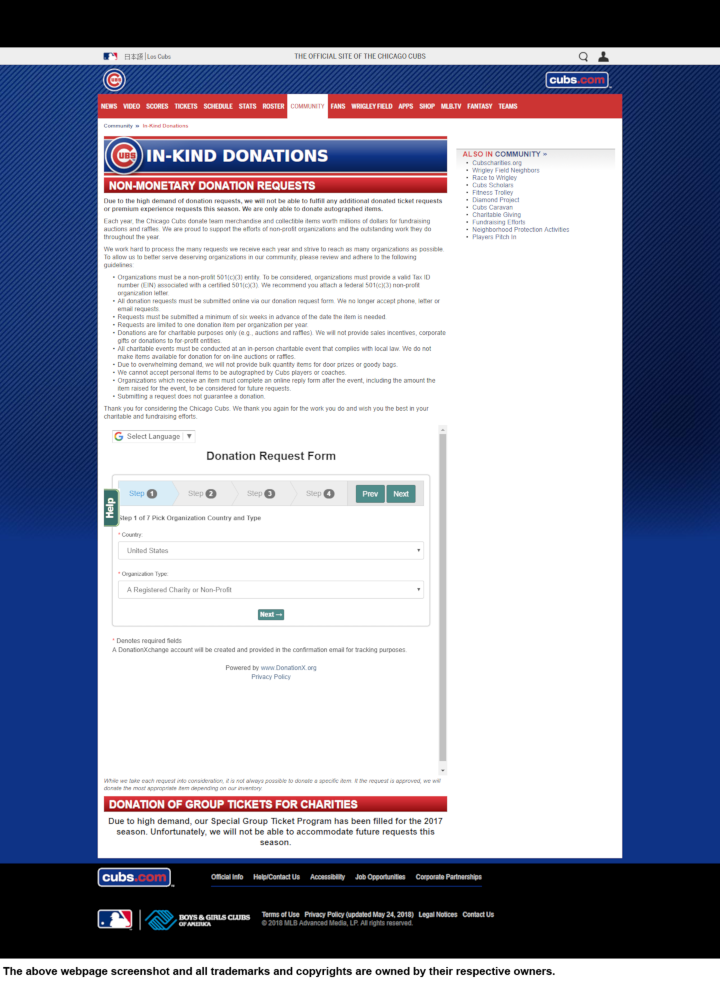 See their website for more detailed information.
The Chicago Cubs is proud to support the efforts of non-profit organizations. The team donates merchandise and collectible items for fundraising auctions and raffles.
They process volumes of donation requests each year, to be eligible, your organization/event must adhere to the following guidelines:
-Organizations must be a non-profit 501(c)(3) entity.
-All requests must be submitted online via their donation request form.
-Requests must be submitted a minimum of six weeks before the date the item is needed.
-Requests are limited to one donation item per organization per year.
-Donations are only for charitable purposes.
-Unable to provide bulk quantity items for door prizes or goody bags.
-Does not accept personal items to be autographed by Cubs players or coaches.
-Organizations which receive an item must complete an online reply form after the event, including the amount raised to be considered for future requests.
-Submitting a request does not guarantee a donation.
Company Information: Chicago Cubs trademarks and copyrights are owned by:
Chicago Cubs