Benihana Product Donations
Read more about how your organization can qualify for and use a donation from Benihana, or click here to find and solicit more donors like them!
About Benihana And Giving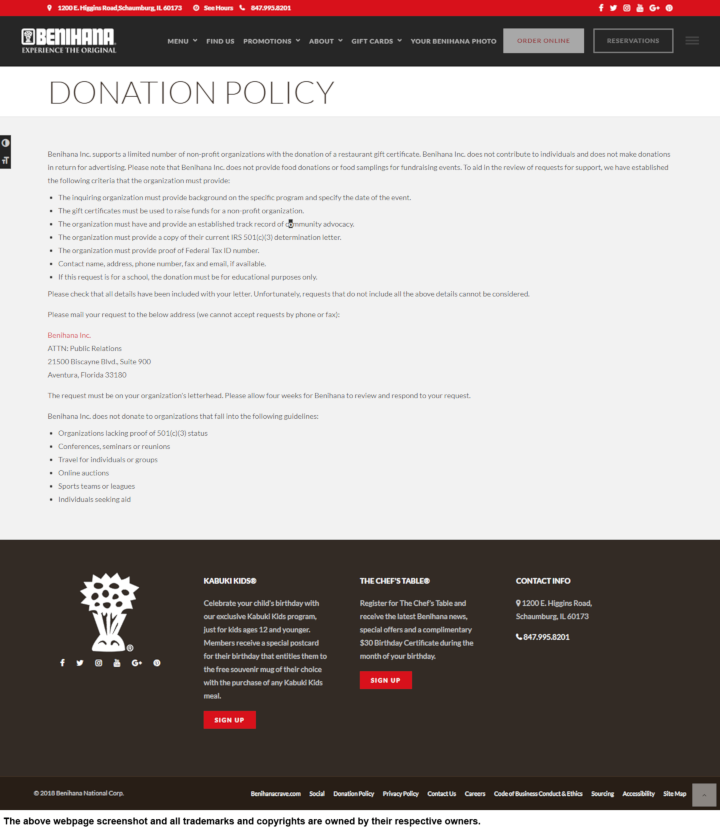 See their website for more detailed information.
If your nonprofit organization is seeking a donation from Benihana Inc., follow these guidelines to ensure a successful request:
1. Eligibility Criteria: Benihana Inc. supports a limited number of non-profit organizations with restaurant gift certificates. Your organization must be a registered 501(c)(3) nonprofit with a valid IRS determination letter and Federal Tax ID number to be eligible.
2. Provide Specifics: When making your request, include background information about the program for which you need support. Specify the fundraising event date and ensure that all the necessary details are included in your letter.
3. Use for Fundraising: The gift certificate must be used for fundraising purposes only. Benihana Inc. does not donate to organizations that seek donations for conferences, seminars, reunions, travel, sports teams, leagues, or individual aid.
4. Demonstrated Community Advocacy: Your organization should have an established track record of community advocacy.
5. School Donations: If your request is for a school, the donation must be for educational purposes exclusively.
6. Submitting the Request: Submit your request on your organization's letterhead via mail.
7. Response Time: Allow up to four weeks for Benihana Inc. to review and respond to your request. Please note that they do not accept requests via phone or email.
8. Notable Exclusions: Benihana Inc. does not provide food donations, food samplings, or donations to individuals seeking aid.
By following these guidelines, your nonprofit organization can make a proper request for a donation from Benihana Inc. Ensure that all necessary documentation and information are included to increase your chances of success.
Company Information: Benihana trademarks and copyrights are owned by:
Benihana