Rockin' Jump Product Donations
Read more about how your organization can qualify for and use a donation from Rockin' Jump, or click here to find and solicit more donors like them!
About Rockin' Jump And Giving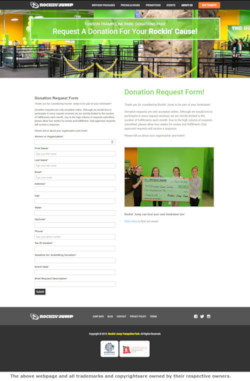 See their website for more detailed information.
With facilities spanning the U.S., Rockin' Jump loves to give back to surrounding communities through in-kind donations to charitable organizations and schools.
Just fill out their online donation request form with at least four weeks lead time to your event. Describe your organization, the event, your contact information, and what you are requesting. You will receive a response if your request is approved.
Company Information: Rockin' Jump trademarks and copyrights are owned by:
Rockin' Jump