New York Islanders Product Donations
Read more about how your organization can qualify for and use a donation from New York Islanders, or click here to find and solicit more donors like them!
About New York Islanders And Giving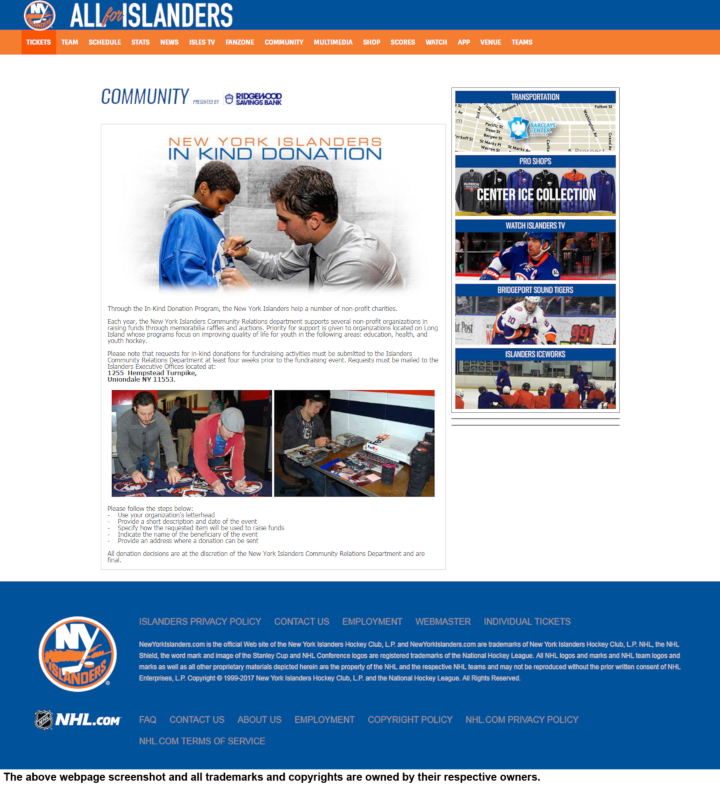 See their website for more detailed information.
The New York Islanders help non-profit charities through their In-Kind Donation Program. Their Community Relations Department supports organizations raising funds through memorabilia raffles and auctions. Priority is given to Long Island organizations who focus on: education, health, and youth hockey.
To request for in-kind donation, please follow the steps below:
Use your organizationís letterhead;
Provide a short description and the date of the event;
Specify how the requested item will be used to raise funds;
Indicate the name of the beneficiary of the event;
Provide an address where a donation can be sent.
Submit it to the Islanders Community Relations Department at least four weeks prior to the fundraising event. Requests must be mailed.
Company Information: New York Islanders trademarks and copyrights are owned by:
New York Islanders