Men's Warehouse Product Donations
Read more about how your organization can qualify for and use a donation from Men's Warehouse LOCAL GIVING, or click here to find and solicit more donors like them!
About Men's Warehouse And Giving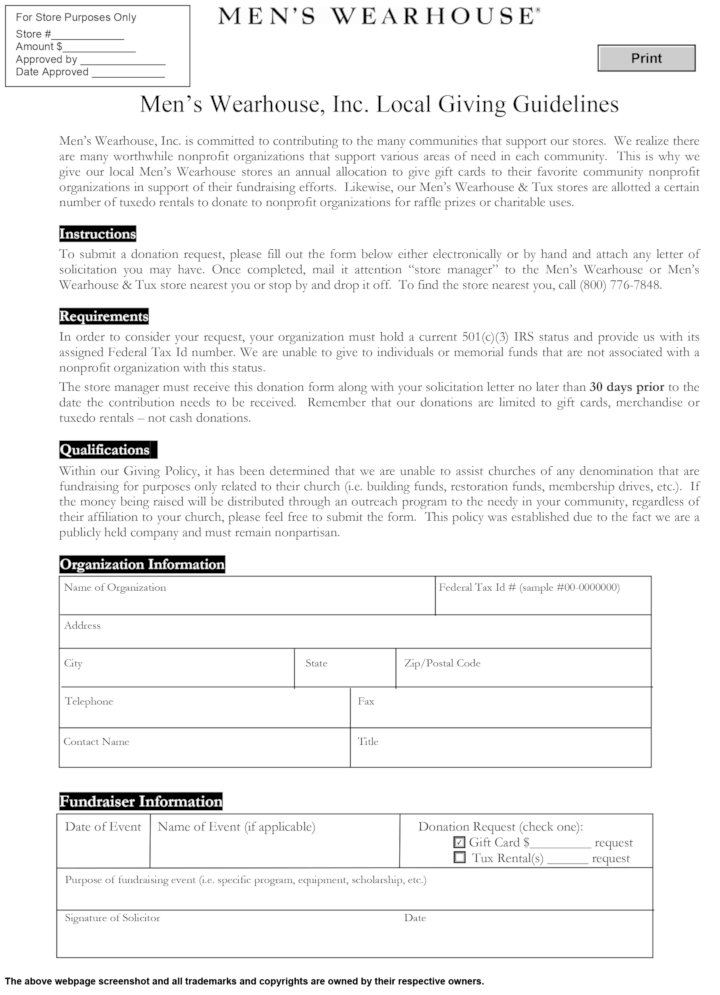 See their website for more detailed information.
To request a donation of merchandise from Men's Wearhouse based on the information provided on their webpage, you can follow these steps:
1. Review the eligibility criteria: Ensure that your organization aligns with Men's Wearhouse's initiative to help men strive for self-sufficiency through workforce and job readiness programs. This includes supporting individuals by providing them with professional attire to facilitate their re-entry into the workforce.
2. Send an email inquiry: To initiate the donation request process, send an email to the address provided on the webpage. Express your organization's interest in receiving donated merchandise from Men's Wearhouse.
3. Await the application: After contacting them via email, Men's Wearhouse will respond by sending you an application form. This application will help verify your organization's eligibility to receive their donated merchandise.
4. Complete the application: Fill out the application form thoroughly, providing all the necessary information and details about your organization, including its mission, programs, and alignment with Men's Wearhouse's initiative.
5. Submit the completed application: Once you have completed the application form, submit it to Men's Wearhouse as instructed. Ensure that you meet any specified deadlines for submission.
6. Await their response: After submitting your application, allow Men's Wearhouse some time to review your request and determine if your organization qualifies for its donated merchandise. They will reach out to you with a decision or further instructions.
By following these steps, you can request a donation of merchandise from Men's Wearhouse based on the information available on their webpage. It's important to note that the specific details and requirements of the application process may vary, so it's advisable to refer to the webpage and any instructions provided by Men's Wearhouse for the most accurate and up-to-date information.
Company Information: Men's Warehouse trademarks and copyrights are owned by:
Men's Warehouse